| | | |
| --- | --- | --- |
| Curso de Doctorado | | Física del Medio Interestelar |
Everydoby is welcome!

Don't be shy; this is your chance to understand those spiky spectra:
If oxygen is 5 orders of magnitude less abundant than hydrogen: how come the oxygen lines are more intense than the hydrogen ones?
Why do we see emission lines at all?
Why are the spectra of planetary nebulae so rich in emission lines of all species and ionization stages?

How do you compute the star formation rate from the Halpha luminosity in an HII region?
Why have I been computing the density of an HII region from the [SII] lines?
Why have I been computing the electron temperature of a planetary nebula from the [OIII] lines?

I'm lost in the Lyman forest. What is this

all

about?
Come and understand the micro physics of ionized gaseous nebulae from a single star to the whole universe!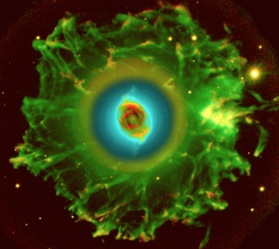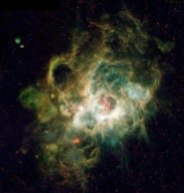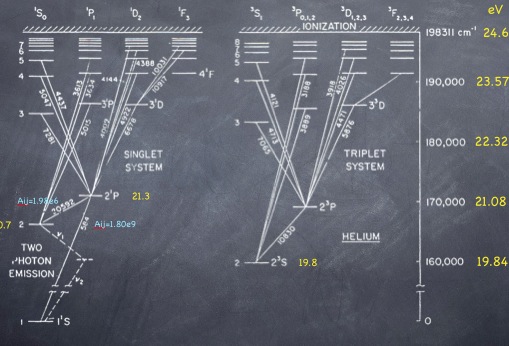 ASPECTOS ORGANIZATIVOS

Impartido por última vez: Universidad Autónoma de Madrid curso 2020-2021.

Marzo 2019 ha sido la última ocasión en que se oferta este curso.
A partir de mayo de 2019 el curso se impartirá solo por petición de algún grupo que se organice para tal menester.


ASPECTOS DE CONTENIDO
Esta es una buena oportunidad para aprender todo aquello que siempre quisiste saber sobre la ionización y energética de las nebulosas ionizadas (regiones de HII, nebulosas planetarias, galaxias activas, reonización del universo temprano, etc), pero nunca te atreviste a aprender (o tuviste tiempo de estudiar).

En el núcleo fuerte del curso vamos a ver tres capítulos básicos: (versión preliminar INCOMPLETA de las notas del curso)

Algunas figuras usadas durante el curso.


Ejercicio práctico: Plantear y resolver las ecuaciones de equilibrio de ionización-recombinación para una nebulosa estática con simetría esférica que contiene H y un 10% de He. Suponer que la fuente de ionización es una estrella central. Usar los dos modelos de atmósferas de Kurucz (ver Utilidades más abajo). Suponer los siguientes casos para la distribución de densidad del gas: (a1) densidad constante de 100 cm-3; (a2) densidad constante de 5000 cm-3; (b) la densidad varía como una ley de potencia con la distancia, explorando el comportamiento con el valor del exponente. Presentar una memoria del trabajo que conste de una introducción general, planteamiento y resolución de las ecuaciones que incluya las hipótesis hechas, representación gráfica de los resultados, comentarios sobre los mismos, y un apéndice con el código usado (puede usarse cualquier lenguaje de programación).

Utilidades:
Bibliografía básica principal:

Astrophysics of Gaseous Nebulae and Active Galactic Nuclei. D. E. Osterbrock. 1989, Science University Press.
Astrophysics of Gaseous Nebulae and Active Galactic Nuclei. D. E. Osterbrock & G. Ferland. 2006, Science University Press.
Physics of Thermal Gaseous Nebulae. L. H. Aller. 1984, Reidel Pub. Co.
Interpreting Astronomical Spectra. D. Emerson. 1996 John Wiley & Sons Ltd.

Astrophysics of the Diffuse Universe

. M. A. Dopita & R. S. Sutherland, 2003, A&A Library.


Quantitative Spectroscopy of Photoionized Clouds

. Gary Ferland, 2003, ARAA 41, 517.


Theoretical Astrophysics. vol.1. Astrophysical Processes

. T. Padmanabhan, 2000


Atoms in Astrophysics.

eds. P.G. Burke et al., Plenum Press


The physics of the interstellar medium.

J.E. Dyson and D.A: Williams, IoP
Atomic Astrophysics and Spectroscopy. A.K. Pradhan and S.N. Nahar, CUP 2011


Spectroscopic challenges of photoionized plasmas

. eds. G. Ferland and D.W. Savin, ASP Conf.Series vol. 247

Atomic / Spectroscopic Databases:

Para cualquier duda o consulta, por favor ponerse en contacto: eperez@iaa.es